Jidori Chicken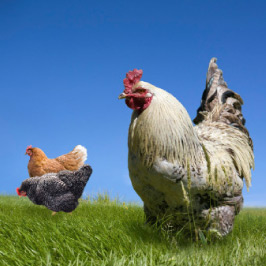 I've got some big news about chicken. 
I am very excited to announce that we're bringing in a new brand of chicken.  Please take some time and check out Jidori Chicken.  As you can see, Jidori Chickens are raised in cruelty-free environments in Central California. They are never administered antibiotics or growth hormones.  But, what sets Jidori apart is the amazing flavor.  It is my belief that Jidori has a better tasting bird, and that has a lot to with freshness.
Anyone who has ever bought chicken will tell you, the shelf life is unstable to say the least.  I mean to say chicken goes bad very quickly.  Red meat is like fine wine, it gets better with age.  Poultry is decidedly the opposite.  Time is of the essence with poultry, and it has come to my attention that Jidori is tops when it comes to freshness.  Also, Jidori processes all their chickens by hand.  This reveals that they aren't a massive operation.  They employ small farmers in the Fresno area to grow their chickens, and have a small boutique processor handle all of their processing. 
So, it is with a great deal of pride and excitement that we will offer this brand going forward.  I can assure you that it is lock-in-step with the values that we have always had when it comes to poultry.  I am certain that you will not only feel comfortable knowing how these chickens are handled, but also with the overall quality. 
Of course if you have any questions or concerns, please don't hesitate to contact me (michael@theventurameatcompany.com). 
Michael Buckley Owner/Operator The Ventura Meat Company
Trackback from your site.